I recently attended Laura Roeder's excellent webinar on Facebook's new features being rolled out this month. It's good news for business owners – you'll finally be able to separate the personal and business on Facebook.
Profiles are the core of Facebook – this is the page you got when you signed up for Facebook initially. Don't do business on your Profile – doing so can get you kicked off Facebook. A (Fan) Page is for communicating with customers of your business. Groups are for interacting directly with other Facebook members who share an interest or hobby.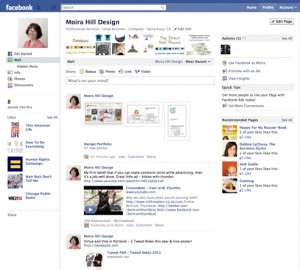 So what's changed? Up at the top of the page, the tabs are gone (they've moved over to the left). In their place are photos – the prominent placement means you can use them to promote your product. If you offer a service, post pictures of you doing your thing – giving presentations, consulting, performing, etc. For some very creative uses of the Page Photo feature, go to: http://mashable.com/2010/12/14/new-facebook-profile-hacks/
On the left side of the Page, the navigation tabs have moved over here and now you can quickly glance through everything in one place. Below that are other Pages that you Like featured much more prominently.
The Wall – Facebook has changed from a chronological order to posting based on a new algorithm — they decide which updates go where. Personally I dislike this, as you could miss what someone says on your Page's Wall. Change your notification settings to whenever someone posts something so you can respond. For detailed instructions, visit my Facebook note at: http://on.fb.me/f950fA
You can use Facebook as a person (from your Profile) or as a business (from your Page). Switch this preference under the Account menu (upper right corner).
Interacting as your Page can be a way to make new people aware of your product/service and get much wider exposure. Here are some action steps to consider:
Think about your Page name carefully – Facebook won't let you change it.
Optimize your Page photo – headshots work great. Remember that the photo will be small when you post. Logos/symbols details are likely to be lost.
Use Facebook's Search bar (top of page) to find other Pages where your customers hang out.Start "Liking" and reading those Pages. You can leave a comment (remember to sign in as your Page first!).  Make sure you're adding to the conversation, not just leaving comments to get noticed…that's a variety of spam!