Working together – graphic design/illustration example:
We'll meet several times over the course of a job — in person or via phone/email. We begin with a meeting to discuss job parameters and expectations. I estimate the time and fee, and submit them to you for approval. Following approval and payment of the deposit, we'll get started:
• I create a schedule and send it for your feedback/approval. I get any outside vendor quotes necessary (e.g., printer).
• I research the problem, then generate preliminary sketches for your review/feedback.
• I refine the preliminary design into a "comprehensive" mockup ("comp") for your review/feedback.
• I create the final art as digital files set to the appropriate specifications (print or web).
• You "sign off" on the job, giving your approval to proceed to print or launch.
My Background:
Since 1997, I've worked on a wide range of subject matters and types of communications projects — both print and digital.
Education: University of California, Santa Barbara – Geography (minor Cartography); Environmental Studies (minor International Development). Santa Rosa Junior College – graphic design, fine art (coursework equivalent to BFA Graphic Design).
Teaching: graphic design, layout, and digital pre-press.
I've experienced many cultures and places (most memorably in Tanzania with the Peace Corps). This adds diversity, richness and depth to my work. Non-profits get a discount. I practice sustainability (see my article Be a Trim Tab).
Sustainability: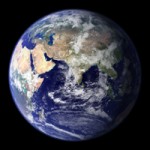 It's a small planet, with a growing number of us living on it, and shrinking resources (interactive world population maps).  Living lightly on the Earth has never been more urgent — "live simply, so that others may simply live."
Resources:
Environmental Policy Institute (EPI): dedicated to planning a sustainable future and providing a roadmap of how to get from here to there.
Beth Terry: My Plastic Free Life — her blog is full of useful information, and she's just written a book on going plastic free. Go Beth!
Chris Jordan: internationally acclaimed artist and cultural activist; his work focuses on showing us the behaviors we engage in constantly on a collective level, often beneath the surface of consciousness. His most recent work is on global plastic waste. (The video above is about this project.)
Bill McKibben: environmentalist, author, and journalist who has written extensively on the impact of global warming.
Richard Heinberg: leading educator on peak oil and sustainability.
Paul Harrison: nature and environment writer and photographer. He wrote the best-seller Inside the Third World, a compassionate primer on what life is like for billions of people living in poverty worldwide.
Terry Tempest Williams: author, conservationist and activist working in ecology and wilderness preservation, women's health, and exploring our relationship to culture and nature.
Frances Moore Lappé: writer, speaker and activist on food, hunger and poverty issues.
Jean Kilbourne deserves a wide audience for her work on the dehumanizing aspects of the advertising and marketing industries. "Action is the antidote to despair."
TETEA, a non-profit working to provide scholarships and expand educational opportunities in Tanzania — it was started by Peace Corps Volunteers.
I believe that if, at the end of it all, according to our abilities, we have done something to make others a little happier and something to make ourselves a little happier, that is about the best we can do. To make others less happy is a crime. To make ourselves unhappy is where all crime starts. We must try to contribute joy to the world — that is true no matter what our problems, our health, our circumstances — we must try. I didn't always know this, and I am happy that I lived long enough to find it out.
— Roger Ebert